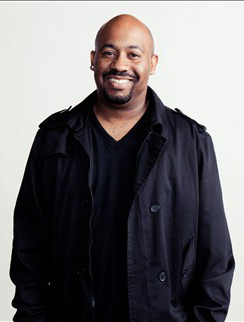 Neneki "Nick" McGee is a self-taught artist from Los Angeles whose passion for art and sheer talent resulted in sales of his drawings while he was still in Elementary School. As a teenager, Neneki began to airbrush portraits of iconic pop stars like Michael Jackson and hip hop legend Tupac Shakur, not knowing that his ability to render life-like images, on surfaces such as canvas, clothing, shoes, wall murals and even skateboards would garner him awards and an international fan base.
With over 2 million "hits", Neneki's website, www.Artistic-Graphics.com, has attracted a global clientele stretching across the United States, Canada, Europe and Asia. Neneki's artwork has been featured on TV, Movies, Magazines, ArtGalleries, and Museums. In 2009 he was one of a select group of artists invited to participate in "Colors to Life Beautiful" a thematic Art Show inspired by Alice Walker's "The Color Purple" which ran in conjunction with the Los Angeles tour of Oprah Winfrey's "The Color Purple" Musical. His airbrushed clothing designs for a wrestler have been featured on televised episodes of WWE's Smack Down and WWE's Super Stars.
Currently Neneki is in demand airbrushing at various events. His photo backdrops, airbrushed tees, caps, body art, and temporary tattoos have helped make events unforgettable. He has done photo backdrops for Snoop Dogg and has also done photo backdrops, painted tees and caps for LL Cool J's daughter's Super Sweet 16 that was covered by the E! Network and Seventeen Magazine. He also has been touring the country hitting music festivals, colleges and charity events amazing people with his LIVE Painting show. Neneki is able to paint life-like portraits to music and finish them within 10 minutes. He was featured on the KTLA Morning News and finished a portrait LIVE on air as he was interviewed. He has designed and painted the set for Anthony Anderson's ABC Premiere Episode for the TV Show "Black-ish" Bro Mitvah scene and returned the 2nd Season of "Blackish" to paint a custom vintage painting on black velvet for Pops (Laurence Fishburne's) Guest House. He created two Paintings for the "Black-ish" "Good Times" tribute Season Finale Episode. He also painted Custom T-shirts for Showtimes "Ray Donovan" TV Series. In 2014 he had paintings selected by Russell and Danny Simmon's/ Bombay Sapphire Artisan Series Competition. He was selected out of over 5000 National participants and 20 out of 500 Los Angeles participants. He a has developed a exciting Urban Art Class and mentoring program that is for all ages and is currently being featured at various High Schools throughout Los Angeles.
In the dynamic world of airbrush design and contemporary fine art, Neneki strives to grow and develop his versatility and client base. He is thankful for every opportunity to create, share his gift of art and strive to inspire others in a positive way!